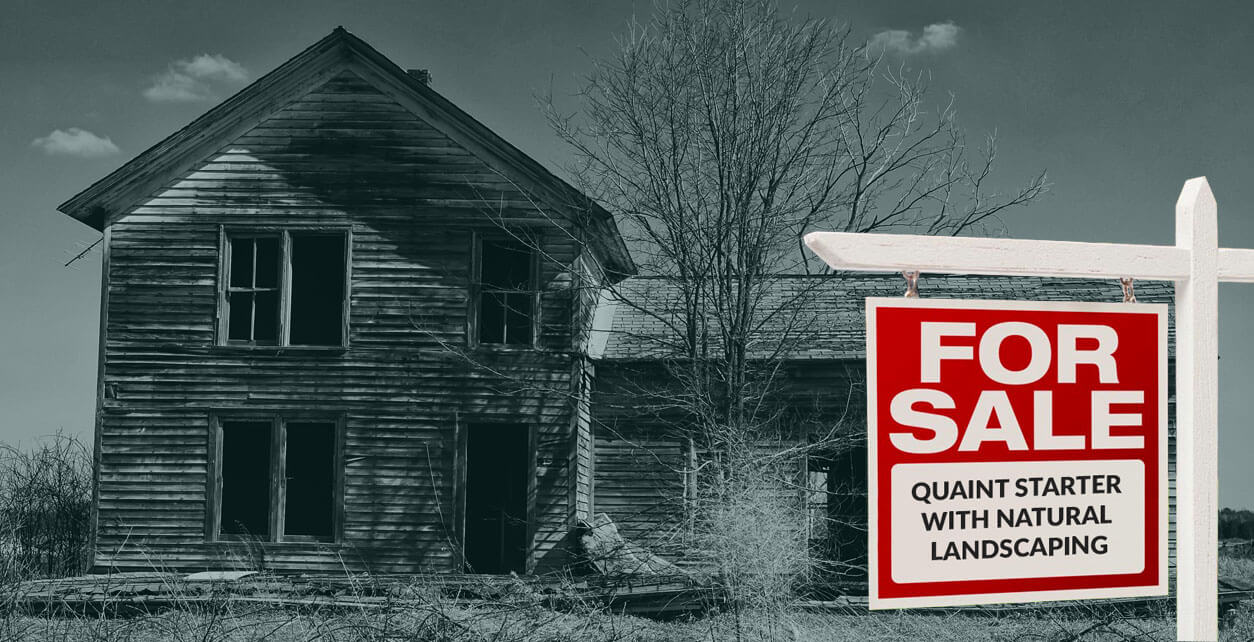 Anyone who has scrolled through enough real estate listings will know that certain key terms come up again and again. "Quaint." "Move-in-ready." "Nestled." There are a lot of them. There's a good reason for this. As real estate agents, it's our job to put our client's best foot forward, and that means writing listings in a way that casts their home in the best possible light. 

Over time, this habit has evolved into a kind of code. No listing agent will ever say a home is "small", but they might say it's "cozy", and every buyer's agent reading that listing will know exactly what they mean. It's useful for the professionals to understand this, obviously, but it's also useful for prospective buyers. If you can decipher the listing, you can see the risks and opportunities hiding inside it. Today, I'm aiming to crack the code for you by explaining some of my favourites. 
Code Word: "Lovingly Maintained"

Read: "Outdated." 


In the world of real estate listings, a home that has been "lovingly maintained" has probably had a long-time owner who has taken great care to keep it in working order – but who also hasn't invested in upgrades. So when you see this term, know that the structure is likely sound but that you'll probably have renovations in your future.

Code Word: "Up-and-Coming"

Read: "Gritty." 


Sometimes it seems like half the neighbourhoods in the MLS are "up and coming". For the uninitiated, this means they're sketchy – but that they won't stay that way forever. If you're okay waiting out the neighborhood's redevelopment (and the construction noise that will come with that) you'll likely see a good returns over the long term.

Code Word: "Attention investors" 
Read: "Hoo boy."


When a listing agent addresses "investors", they're intentionally not addressing "people who just want a house to live in." This is because the home in question probably isn't great. And may be very not great: Old, outdated, possibly falling down. This isn't necessarily a bad thing, but as prospective buyer, you should know going in that you may have to include the time, effort and expense of renovations into your homebuying plan.

Code Word: "Natural landscaping"

Read "Jungle." 


When a real estate agent describes a property as "natural," it's possible they mean that the owner has crafted an exquisite garden that balances the splendor of a rainforest with the order and beauty of a manicured estate. But probably not. They mean dandelions. Get ready to break out the weed eater. And the shovel. And the rake. And possibly the chainsaw.

Code Word: "Cozy"

Read: "Small." 


No sprawling mansion has ever been referred to as "cozy". When you see this term, be sure to check the home's floor area. It's likely pretty teeny, but it may also be an opportunity for a first-time homebuyer (who doesn't have a lot of stuff – or children).

Code Word: "Quaint"

Read "Small and old." 


Much like "cozy", "quaint" signals a limited floor area, but with the added dimension of age. If you're on a budget, and in the market for something small, this could be a fit for you – provided you're prepared to invest in upgrades.

Code Word: "All Original Details"

Read: "Avocado appliances." 


Some original details – crown moldings for example – can be charming if properly restored; others – such as brown bathtubs – may be less so. Know that references to "all original details" probably include both, so be sure to price in fresh paint, new fixtures, new appliances and other upgrades when you make your budget.

Code Word: "Low-Maintenance Yard"

Read: "Long on concrete, short on grass."


In this part of the world, the only low-maintenance garden is no garden at all, so when you see this term in a listing, they probably mean most of the yard is taken up by bricks, flagstones or another hard surface. If greenery is important to you, you may have to price in the cost of landscaping.

Code Word: "Move-in Ready"

Read: "pricey." 


If a home is described as "move-in ready," it's probably pretty sweet – and may well be newly renovated. It won't require a lot of work on your part, but you'll also be paying a premium for that finishing.

Code Word: "Priced to Sell"

Read: "no room for negotiation." 


When a listing agent uses this term, they're signalling two things: That the home is listed at what they see as a good price, and that they're not going to come down from there – so expect to pay something close to the number advertised.

Code Word: "Needs TLC"

Read: "needs money."


This is as close to saying "ugly" as a listing agent will ever get. A home in need of TLC is a home in need of substantial investment. It may not be pretty just yet, but it may also present an opportunity for a buyer who is willing to undertake renovations.

Code Word: "Breakfast Nook"

Read: "space with no obvious use." 


These come up a lot, particularly in newer condo developments. If you're not familiar with "breakfast nooks," they're generally irregularly shaped spaces of a few square feet squeezed in next to a kitchen. It's not clear if anyone in the history of home ownership has ever eaten breakfast in one, but that doesn't mean they have to go to waste. With a little creativity, you may be able to install a storage system inside – an asset in a smaller unit.

Code Word: "Nestled"

Read: "The listing agent needed a synonym for 'Located.'"


The word "nestled" is used more liberally than perhaps any other term in real estate. I've seen homes "nestled" in cookie-cutter subdivisions; in semi-industrial areas; next to apartment blocks. I've even seen whole apartment blocks "nestled" in the downtown core. When you notice this term, know that the listing agent just means the home in question is located somewhere on Earth. That doesn't mean it's a bad home, however.